Windsor Leisure Centre Events
Royal Family Pool Party 27/4/22
Come join us Friday May 27th as we celebrate the Queen's Platinum Jubilee in style with a pool party. 
Join us down the slides and riding the waves with a DJ playing the latest tunes. 
The pool party is in 60 minutes slots starting from 5pm finishing at 9pm. 
Booking is 7 days in advance which goes live on Friday 20th May.
*Normal pool terms and conditions apply, under 8's must be accompanied by an adult.Please read when booking tickets.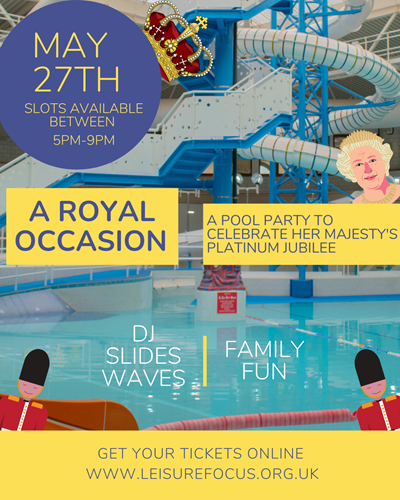 Love Fitness Friday 27/4/22
We return with another Love Fitness Friday event to celebrate the Queen's Platinum Jubilee.
For Leisure Focus fitness members, this event is free to attend. Please book 7 days in advance via the app or website, non members will pay like a normal class booking.
Kicking it off at 6pm is a 70 minute workout with Abby celebrating 70 years of the Queen's reign. Enjoy a royal calorie burn before the big weekend. All abilities welcome, this will be a mixed HIIT and Circuit style training.
Following on from this is our very own Queen of Windsor Leisure Centre, Denny hosting a Zumba class for all the ages 16+ from 7.30 - 8.30pm. She will be celebrating in style as fancy dress / or red white and blue clothing is very much welcome.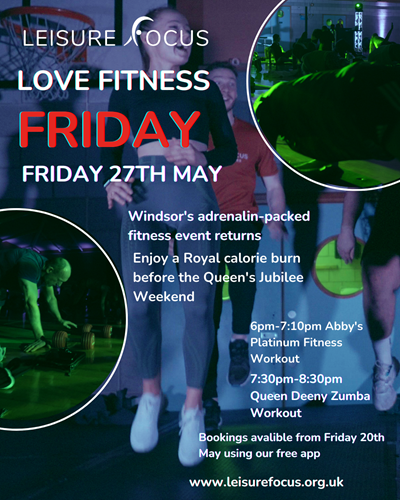 Half Term Holiday Activities
Escape Rooms
If you've ever fancied yourself as a bit of a Sherlock Holmes, and love solving mysteries and spotting clues when you watch television or films, then imagine you are doing this for real.
You and your team will be shut in a room for 60 minutes. Inside the room will be puzzles to solve and clues to find, so you'll need to bring your brain with you and keep your eyes peeled at all times.  It will be the quickest 60 minutes of your life.
https://www.escapein60windsor.com/